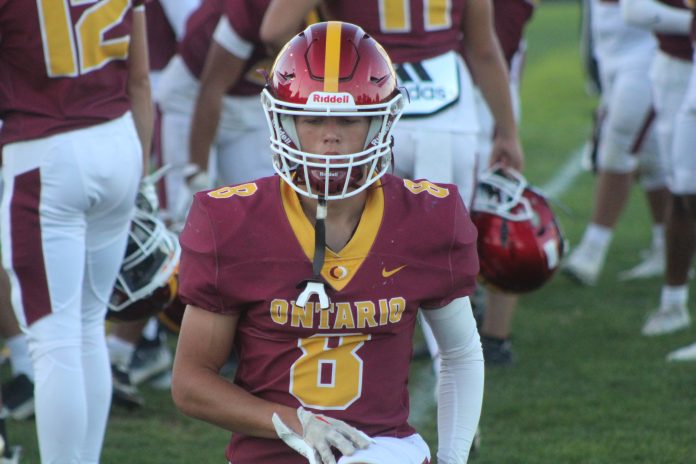 This article brought to you by Four Rivers Vet Clinic.
We are a professional animal Veterinary Clinic offering medical and surgical care for small animals. Four Rivers has been operating in Ontario, Oregon since 1999, with an emphasis on preventative care and client education. We emphasize preventive medicine, wellness care, geriatric care, and dental care for our patients.
We're committed to giving your pets extraordinary care whenever and wherever they need it. Partner with one of our veterinarians today to begin proactively monitoring the health and wellness of the pets you love. Give us a call at 541-889-7776.

John L. Braese
WILSONVILLE – Football season is still months away, but athletic directors are attempting to make schedules and cut deals for games now. Stopping who will play who is decisions yet to be made by the OSAA Football Ad-Hoc Committee. This committee convened Wednesday, Jan. 11 to take testimony from schools and will again meet Jan. 25 before making their recommendations to the OSAA Executive Board for the February meeting.
One idea currently being floated by the Ad-Hoc is allowing struggling teams to play down a division for a period of two years, not the current one year rule. However, being considered is an idea a team playing down would not be eligible for the playoffs in the second year of "play down".
Ontario football wants to stay in the 3A. Athletic Director Josh Mink provided testimony to the committee stating the Tigers did indeed meet the current criteria to be returned to the 4A division, but would like one more year in the 3A Eastern Oregon League.
"Ontario football is still in a rebuild phase," said Mink. "Our senior participation is low and moving Ontario back to the 4A will have an impact on nonleague schedules statewide."
The Tigers have received support in the form of letters to the OSAA to remain in the 3A Eastern Oregon League from league members Burns, Nyssa and Vale.
Also making the request to remain playing one division down was Umatilla Athletic Director Scott Bow. Playing in the nine-man 2A this past season, the Vikings played to an 8-3 season and an appearance in the 2A quarterfinals.
However, this Umatilla team will see the loss of 10 seniors to graduation and according to Bow, an upcoming junior varsity team that struggled.
"The JV football team was winless this year," said Bow. "Umatilla football has suffered for many years and it was great to see a good year."
Bow said a continued strong soccer program at Umatilla continues to result in fewer players on the football squad.
Powder Valley Superintendent Lance Dixon requested the committee to consider lowering the cutoff number for 6-man football eligibility.
"60 is too high," said Dixon. "What is in place now is not appropriate."
A 60-student high school does not sound large. However, the OSAA uses an adjusted rate when setting student numbers. The actual number of students in a high school is lowered for OSAA purposes by the number of students receiving free/reduced lunches.
"Powder Valley has been successful in the 8-man, including an appearance in the finals," Dixon said. "With the cutoff at 60, we are actually eligible to play 6-man."
Dixon requested the committee consider moving the number down to 50 students.
"The idea of 6-man was to provide very small schools a chance to compete," he said. "Moving the number down to 50 provides those schools a chance to do that on a fair basis."