BURNS – As we approach Christmas, there are last minute gifts to find and travel plans to make. Many credit cards are taking a beating and Amazon packages adorn the front porches of many a household. In this time of selecting exactly the perfect gift, two brothers from Burns were open and willing to discuss a gift that means more than anything that can be found under a tree. The gift did not cost one cent and required no shipping. The present is old and used and difficult to wrap.
The gift most important to Michael and Justin Winn is their last name, Winn. This precious gift was passed to the brothers by their father, Jay Winn.
Jay Winn was a standout athlete at Burns High School in football, wrestling and baseball.
Watch quarterback #48 Jay Winn score on 68 yard touchdown run in 1993 vs Mac-Hi
After graduation, he remained in Burns, married and had children. Jay worked construction, a profession remembered today by his sons.
"I remember my dad taking me out to job sites and having me scrape the drywall off the floor that had dripped down," said Mick.
The two brothers also have memories of hunting trips, fishing expeditions and wrestling tournaments.
"I remember him watching me at a tournament and when I won, he was so proud," Mick recalled. "He was my first coach."
These and many other memories are special to the Winn boys as Jay was killed in an accident when Mick was 11 and Justin was 9-years old. Driving a large truck, an equipment failure caused the truck to go out of control.
"Statements from witnesses at the scene of the accident reported that Jay wove in and out of traffic desperately trying to avoid an accident," said Jay's sister, Myla Skunkcap. "He ultimately opted to take a sharp right turn into an open field to avoid running into a populated area. He was pronounced dead at the scene."
With their father gone, the Winn family remained in Burns.
"After dad passed, the whole community really stepped up," said Justin.
For the Burns community to step up for the Winn family was not new. Burns has been there for the Winn family since the birth of Mick. Shortly after Mick entered the world, he was air lifted to a hospital with a neonatal intensive care unit. At age three, doctors discovered he experienced hearing problems. A cochlear implant was placed into his right ear and as a child, he learned to read lips. Throughout this all, the Burns community was there with the Winn family.
Fast forward to this year's football season. Both Mick and Justin donned Hilanders uniforms and took to the field. Mick wore number 48-his father's number as a Hilander many years ago.
"It meant a lot to me to wear my dad's number," said Mick. "It was also special as Coach Graham also coached my dad when he played for Burns."
The Winn brothers and the Hilanders won a district title and advanced to the semi-finals of the 3A state tournament before falling to the eventual state champions, Santiam Christian. In addition to Graham on the sidelines with the Winn brothers, many of the assistants on the team played with Jay Winn in the 90's. Earlier in the season, Mick booted a 67-yard punt in a game. The school record, 69 yards, is still held by his father.
"I think dad would be proud of what we accomplished this season," said Justin.
The awards poured in for the two brothers-Eastern Oregon League Defensive Player of the Year for Mick, second team running back for Mick, first team wide receiver for Justin. On December 17, the Winn family received word Mick had been chosen first team All-State linebacker. This honor places Winn as one of the premier defensive players in the state 3A ranks.
However, none of the awards were more important than wearing number 48 for Mick.
"It was the number I always wanted to wear since I was a little kid," he said.
Mick will graduate this May, work during the summer and then serve his church on a mission.
"I would like to go to the Pacific Islands," he said.
Justin, a junior, will return to the football field for the Hilanders next season.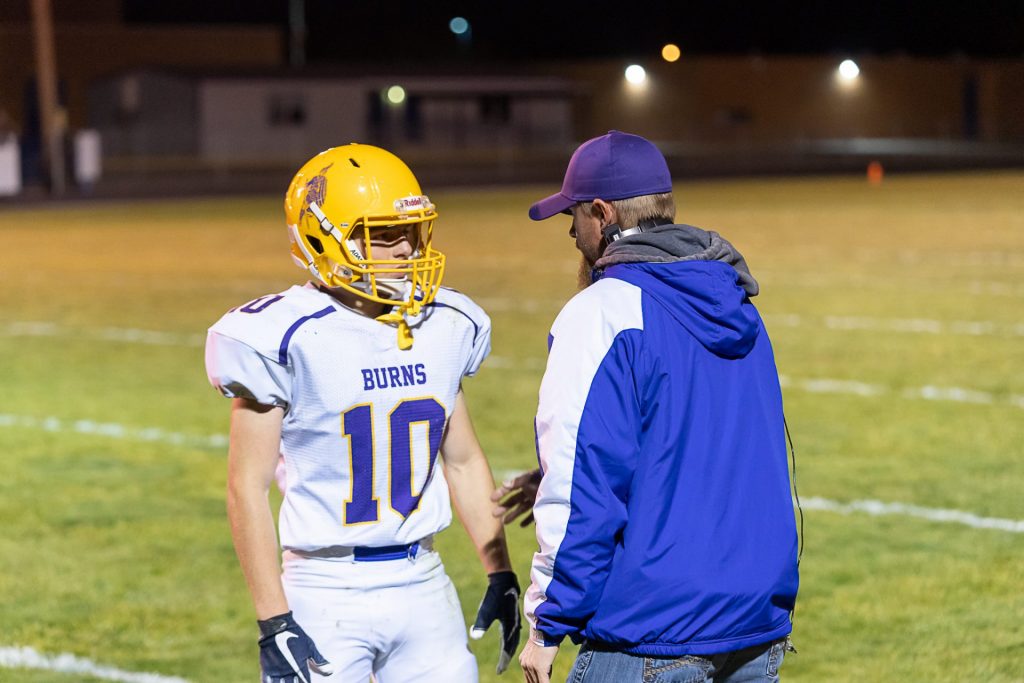 Both compete on the Hilander wrestling team and will hit the baseball field come spring.
As presents are unwrapped on Christmas morning, the Winn brothers already have the greatest present. They have their father's name, their father's legacy and their own legacy.
"Even with everything they have accomplished, I am most proud of the men they are becoming," said Allison, their Mom. "We never considered moving away from Burns. This is home."
Related: Burns has it going this fall
Related: Burns Hilander Action Photos
Thank you to the Winn family for allowing us to do this special story. If you have an idea for a great story please email us at [email protected]