Hilander senior overcomes no local facility to continue dream
BURNS – Imagine a high school basketball player with no gymnasium, no basket, and no backboard in which to practice or play a game. Fathom a high school wrestler with no mat and no wrestling room. Consider a high school tennis player without a court, a net or high school teammates.
High school athletes work every day with the dream to take that one step up to the collegiate level. The vast majority of them have assistance from coaches, teammates and others, all working together for the achievement to be reached.
In the minority is Reagan Fulton.
Fulton, a Burns High School senior, recently signed a Letter of Intent to attend Grand Canyon University in Phoenix, joining the Antelopes' diving team. Prior to making the trip to Phoenix in the fall, Fulton will graduate early and move to Indiana to practice with Olympic coaching staff. Her list of accomplishments would be impressive for any athlete, but is even more considering Burns has no diving team, no year around pool and even in summer, just a municipal pool with a diving board dating back to the 1960s.
"I never thought I would have the chance to dive at a Division I school," said Fulton shortly after putting pen to paper on the Letter of Intent. "I just needed someone to give me a chance and Grand Canyon has provided that chance."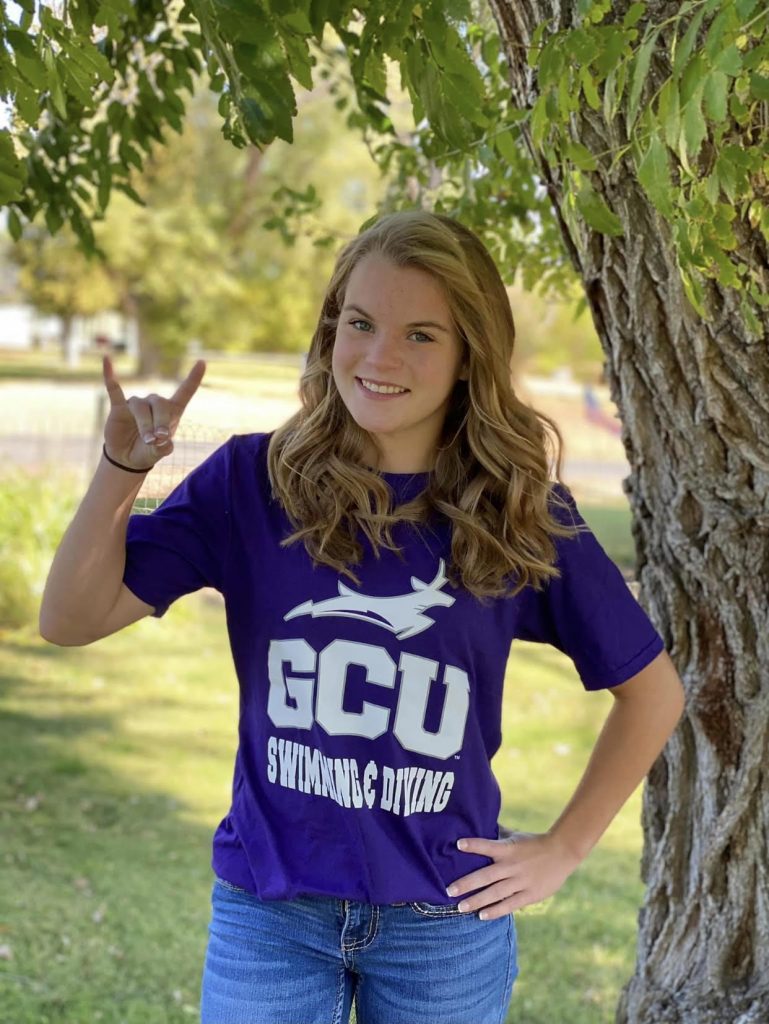 Fulton entered the swimming pool like most children, taking swimming lessons at an early age. Unlike most kids wanting to spend Saturdays at the local pool with friends, she had her eye on the end with the board.
"Swimming was boring," Fulton said. "Even during swimming lessons, I was watching the older kids doing flips and twists off the diving board. From the first time I felt the splash when I hit the water, I knew I wanted to be a diver."
The eight-year old started lessons in her sport of choice, jumping into competitions and planning for the future. Her future, however, involved a move to Burns, population 2,806, a desert community with a local pool open only in the summer.
"I went three years without diving when we moved to Burns," Fulton recalled. "I then went to a diving camp in Seattle and just knew I had to start diving again."
Getting started initially began with trips to Boise, Idaho for practices. The plan changed with the Fulton family traveling from Burns three weekends each month for practice in Beaverton, a 290 mile trip one way.
"My mom would drive while I did homework on the road," she said. "When I had internet access, I would do work on the computer and if not, I would do writing assignments. I would practice when we arrived and we would stay in a motel overnight. The next morning, I would practice again before we got in the car for the trip home."
The miles on the road paid off. Fulton was named an AAU All-American in both the 3-meter and 1-meter events, finishing tenth in the 1-meter competition and placing ninth in the 3-meter finals. She was also honored with Diver of the Week while attending the Ripfest Diving Academy.
Spending time in a vehicle did not damage Fulton's grades. She is a member of the National Honor Society and National Society of High School Scholars.
"I owe my mother big time for all the hours driving me and helping me to my dream" Fulton said. "I also owe my sister for all the times she spent sitting at my practices and my dad for being there at all my competitions."
Her determination to excel in the sport did come with some sacrifices.
"I tried volleyball and track, but I just loved diving," said Fulton. "The time on driving to practices and competitions did take away some opportunities for some high school stuff, but now at this point it has all paid off. Like all my friends say, Reagan equals diving."
Fulton will join an Antelope team in the fall with a history of success. The women's team grabbed a third-place finish at the recent WAC championships. The school also led the WAC in academic selections with 184 student athletes possessing a GPA of 3.2 or higher.
"We heard about Reagan's story and after speaking with her, we knew she was a fit on this team," said Hunter Shafer, assistant diving coach of the Antelopes. "Reagan's drive and dedication is something you just can't instill in athletes. They just have to have it in them naturally."
"Since I was not practicing every day, it was difficult to get coaches to pay attention to me," Fulton said. "When I talked to Grand Canyon, I asked for the chance and they said we want to give you that chance."
"Reagan is dedicated and wants to be good," Shafer continued. "Making Nationals is hard to do, but Reagan is the one to do it."
Nationals may not be the end result for Fulton. The goal for the athlete coming from a community with a pool only open four or five months a year and a 50-year old diving board is the Olympics.
Finishing up her high school requirements early, Fulton will train with six Olympic coaches in Indiana starting in late November.
"I will be training full time there with coaches that have been to the Olympics," said Fulton. "I think I have a chance to make the Olympic team in the future."
The Summer Olympics of 2024 will be held in Paris, France. The trip to Paris is 5,129 miles from Burns–
just a few miles farther than those numerous trips to Beaverton.