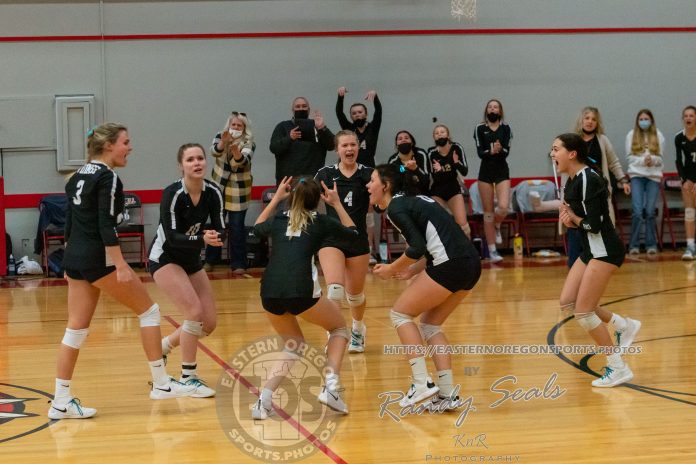 This article brought you by Bentz Insurance – (541) 473-4210
VALE – The Vale volleyball squad will be at home watching the upcoming quarter-final round of the OSAA 3A volleyball tournament. The Vikings' hopes of the Eastern Oregon League bringing home a state title lies now with the Burns Hilanders.
Vale finished second in league play behind the Hilanders and posted an 8-2 league record to go with a 15-13 overall record. In a league including Burns, a team ranked first or second in the state throughout the season, the Vikings ended their season with a loss to Creswell in the opening round of the state tournament.
"It was an extremely balanced match between us and Creswell," said Vale coach Shannon Steele. "These young ladies have grown so much. I am pleased with how much progress they have made especially considering the time we had to take off last year. The seniors were amazing leaders and helped forge the way the whole season. I was impressed with the athletes that stepped up and played positions on the fly with a huge heart and great play."
One of the seniors on the Viking team was Kailey McGourty.
"I think our season went well. We definitely improved from our first couple games," McGourty said. "We really started to come together as a team when we started league play. At that point, some kinks had been worked through and we had lots of energy and excitement for the post season. One of our team goals was to make it to the playoffs and we were all very happy to accomplish that."
McGoutry's feelings were echoed by sophomore Brogan Payne.
"I am sad this year came to an end. We had a ton of fun together as a team," said Payne. "I think we grew as a team and I saw a ton of hard work and drive.
Looking back, Payne said the matches versus the Nyssa Bulldogs and Burns stand out in her memory.
Related: Vale Action Photos
"We played hard and battled for everything we won playing Nyssa," she said. "We played our hearts out and left it all on the court. Playing against Burns at the district tournament, I truly feel we could have taken the match to five sets or had a shot at winning if we were fresh. Each and every girl on the court was playing well against Burns."
"It is always really exciting and fun to make it to the post season," McGourty added. "Those trips are some of my best memories."
McGourty played this season after changing positions to middle blocker.
"I did not play middle last year, but it is my favorite position and I had the most fun playing there," she said. "I love being able to play at the net and I am glad I could finish my senior year playing there."
"Personally, I felt like I hit most of my personal goals," Payne said. "I earned my way to a starting position and learned that I can continue to grow and no matter what, I can bring something to the team. This year I gained friends, skills, knowledge of the game and realized how amazing it is to be on the court again. I also learned that you can do things you never imagine if you set your mind to it and are willing to be critiqued. This year made me excited for next year. We have a few big spots to fill for next year, but I think we have girls ready to fill in and do a great job."
"I hated to see this season come to an end," Steele said. "I can always take a deep breath and step back on all the quality, growth, and future that will step in the gym with me next fall. A big thanks goes to all our fans, supporters and parents."
Vale will see the departure of Taleah Zueger, Lexi Cleaver, McGourty, and Jessi Arriola to graduation.