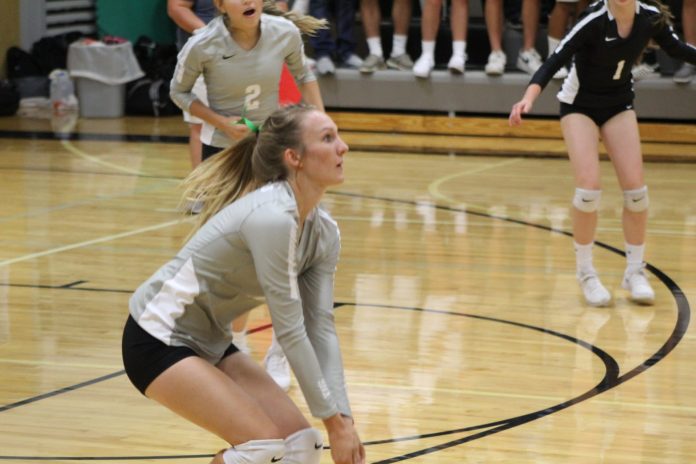 Playing the same teams, even in non-league, becomes monotonous. For eastern Oregon teams, the challenge is finding new opponents. The Vale volleyball team found some unfamiliar faces as the Vikings travelled to Pocatello, Idaho to participate in the Peg Peterson tournament.
The Viks split on the weekend trip, defeating Nampa and Kimberly, Idaho before falling to Filer and Malad, Idaho. They ended up 3rd in the Silver bracket.
The win versus Kimberly did not come easy as Vale went to extra points in game one before taking a 27-25 win. Game two was all Kimberly as the Vikings fell, 25-7. In the tie breaker, Vale grabbed a 15-8 margin.
The win against Nampa also went to three games as Nampa took game one, 25-13. Vale came back in game two, winning 25-19 and took the deciding game, 15-10.
Facing Filer in the quarterfinals, the Viks fell 25-17 and 25-13. The Vikings then finished the tournament with a 25-23, 25-23 loss to Malad.
"Overall, our defense was amazing," said Vale coach Shannon Steele. "I was pleased with our adjustments and balls we saved."
From the service line, the Vikings ended the tournament with an 88 percent success. Alissa Fulwyler, Riley Kesey, Taleah Zueger, Lexy Rodgers and Emmersyn Johnson each served a perfect weekend.
Johnson led the team in offense with 12 kills. Jaymeson Jensen, Lexi Cleaver, and Tyanna Norton each added five kills. Maycee Delong had 23 assists.
"I feel we greatly improved this weekend," Steele said. "This is a great group of athletes with an amazing work ethic. I need to give a huge shout out to Emmy Johnson and her defense. She was amazing. Tyanna Norton did a great job for us in the middle and played so smart."