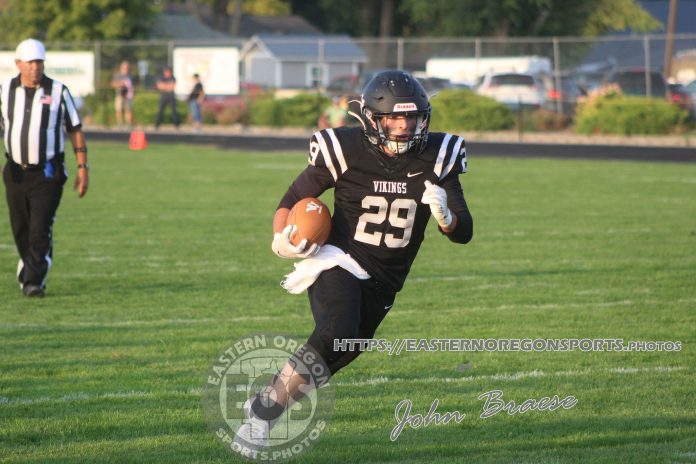 Malheur Drug is your one-stop shop in Vale. We're here to provide you with prescription medications, OTCs, sporting goods, electronics, gifts, and more! Give us a call today! (541) 473-3333

MELBA, ID – The Vale defense gave up 501 yards and the Viking offense failed to score in the first half as the Idaho Melba Mustangs downed the Vale Vikings, 55-12 on Friday, Sept. 23 in Melba.
Vale fell behind early, trailing 0-36 at the half as the Mustangs accumulated 147 yards passing in just the first half, finishing the night with 301 yards in the air and 200 yards on the ground for the game.
The Viking offense finished with 256 total yards but could only put together 94 yards in the first half of the game. With Eli Aldred not suiting up due to injury, Kase Schaffeld was called upon for the ground game, carrying 12 times for 87 yards. Quarterback Colten Stepleton carried on 12 occasions, picking up 60 yards and was 7-for-15 passing with an interception.
Brooks Haueter led the receiving corps with two catches for 21 yards.
"Due to some injuries, some young guys stepped up and played in positions," said Vale coach Jeff Aldred. "David Chudleigh got his first start ever at left guard in his first year of playing football. We also had to call on Kase (Schaffeld) to start with Eli out."
Aldred said he expects players back into the fold for Friday's schedule game versus Ontario.