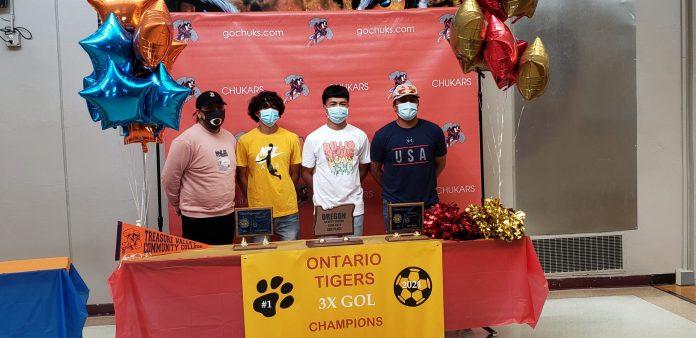 This article is brought to you by Bentz Insurance http://bentzinsurance.com/ Helping protect what is important to you. We offer the best in premier coverage for farm, ranch, business, home, and auto. Give us a call at 541-212-2904 or email [email protected]

ONTARIO – Ontario Tiger seniors Javier Conchas, Adrian Nunez, Rogelio Mireles and Erick Lopez have seen quite a bit of each other since all were small. All four took the soccer field back in the days using size three soccer balls participating in Ontario Recreation League soccer. From there, the four continued, advancing to club ball and finally to Ontario High School, winning three Greater Oregon League titles.
Evan after all those years together, the four just cannot appear to play soccer without the others on the same field. On Thursday, April 22, the four joined their coaches, family and friends and signed Letters of Intent to play soccer as Chukars at Treasure Valley Community College.
"We all wanted to continue to play soccer," said Nunez. "We have been together forever and it just felt right to continue that."
"There is just a lot of chemistry between us all," Mireles said.
The one difference found in the four is choice of study while at TVCC. Conchas is heading towards a career in math while Nunez interest is sports medicine. Mireles is entering the business arena and Lopez may join Nunez in an office as he is also interested in sports medicine.
"This is an exciting day for all of us," Lopez said. "We all wanted to play closer to home and this just worked out that all of us are playing at TVCC."
The foursome agreed Thursday could not have been reached without the assistance of many.
Related: Ontario Tigers Sports Action Photos
"We all owe a great deal to our coaches, parents and teachers," said Conchas. "That includes the coaches we had years ago when we started as kids out here on the little fields in Ontario. Those coaches are the ones to who got all of us interested in soccer.
The Chukars may wish the four would join the team sooner than later. The Treasure Valley men have dropped their first three games by a combined score of 27-2.
"I think will be able to make an immediate impact on the team as we know what each other is doing," Conchas said.
In the last three years of playing together on the Ontario team, the four have a record of 27-4-7 and picked up three league titles.