Brought to you by Nyssa Mercantile in Nyssa, OR is your locally owned hardware store. We're proud to be a member of the True Value family, and we're here to serve our community. Whether you're a pro or taking on a DIY home improvement project for the first time, we're right here in your neighborhood with the expert advice, tools, equipment and the products you need to get the job done. Nyssa Mercantile in Nyssa, OR, we're here to help. Come in and see us today or give us a call at 541-372-6470.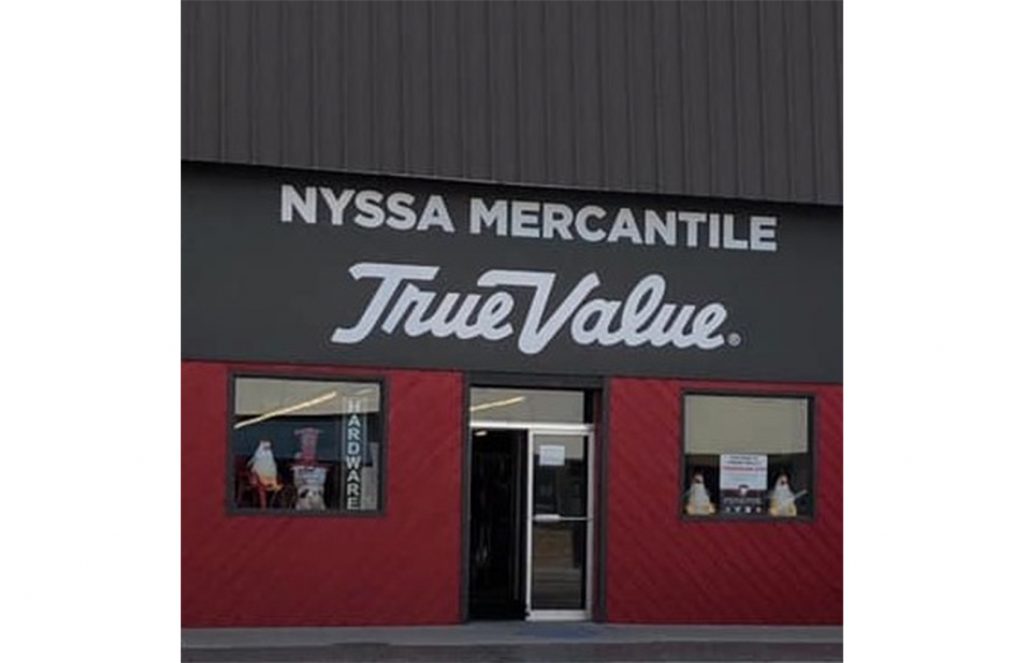 Representatives from Powder Valley and Adrian High Schools were up early on Wednesday, Jan 5 preparing their arguments to maintain 8-player football in Oregon.
The two schools testified before the Oregon Schools Activities Association's Ad Hoc Committee on football via teleconferencing. Taking the screen first, Powder Valley Athletic Director Brad Dunten presented the committee with a recent survey completed by a large majority of 1A schools. The survey, discussed in a previous article by easternoregonsports.com, shows 94.7 percent of the schools support staying with 8-player football rather than playing a new 9-player game.
"How does this help the sport of football by removing an existing program," asked Dunten of the committee.
Dunten also pointed out to the committee the current 6- and 8-player program sends 32 teams from around the state to playoff action.
"The 1A programs send more teams to the playoffs than 3A," Dunten pointed out.
When questioned by the committee regarding the survey, Dunten said the survey was completed by athletic directors of the 1A schools, not coaches or school personnel.
Dunten was then joined by his boss, Powder Valley Superintendent Lance Dixon.
Dixon was quick to point out the 1A schools rarely agree and join together on a issue, but the possible elimination of 8-player football has brought together the schools in unison against possibly seeing 8-person football go down the road.
"The 1A schools are unifying on this issue," said Dixon.
Dixon went on to state 8-player and 11-player teams have met on the field in the past for non-league games. He also expressed concern the current system of socio economic adjustment used in classifying teams will place some schools, like Powder Valley, in a position of unfair advantage.
"We have 90 students and 25 kids on the roster and we would end up playing schools with much fewer students and just 10 or 12 kids on a roster," he said.
Dixon also questioned why 6-player, now in the fourth years of a two-year experiment, has no official state championship but the current proposal of 9-player implements an immediate state championship.
Dixon asked the committee to take into consideration the financial impact of changing football. The typical 1A school currently schedules the volleyball and football teams travel together, playing a team in two sports at a school on the same date. A change to 9-player football could change those plans, making small schools with limited budgets send two teams to separate schools.
"Eight man is one of the greatest games ever," said Dixon.
The Powder Valley presentation was followed by the Badgers' opponents on the football field this season in the championship game, but now allies in support of 8-player football.
Billy Wortman, principal at Adrian High School and Antelope football coach, also started his presentation with the additional costs associated with splitting travel between Lope teams if 9-player football is implemented. He followed with a large collection of letters and emails from Adrian supporters advocating for 8-player football. The letters included those penned by Adrian players themselves.
Of the many letters presented, Wortman was intent on reading aloud a paragraph written by Robert Radford and included in a large packet forwarded to the Ad Hoc Committee.
"It is very disheartening for me to see all this political influence going around. Making it easier for some teams really doesn't make teams try to reach improvement. Compete, grow, get your program working better, coach you kids and IMPROVE. That should be the goal. Don't cheapen the prize by making it easy. That's not the way to get better and achieve excellence," submitted Radford.
"8-man is the greatest form of football," said Wortman.
Members of the Ad Hoc Committee said a final proposal regarding football is scheduled to be forwarded to the OSAA Executive Board prior to the Feb. 6 meeting.
The OSAA and Ad Hoc Committee continue to receive public input on football. Written comments should be forwarded to [email protected].