Nyssa Mercantile in Nyssa, OR is your locally owned hardware store. We're proud to be a member of the True Value family, and we're here to serve our community. Whether you're a pro or taking on a DIY home improvement project for the first time, we're right here in your neighborhood with the expert advice, tools, equipment and the products you need to get the job done. Nyssa Mercantile in Nyssa, OR, we're here to help. Come in and see us today or give us a call at 541-372-6470.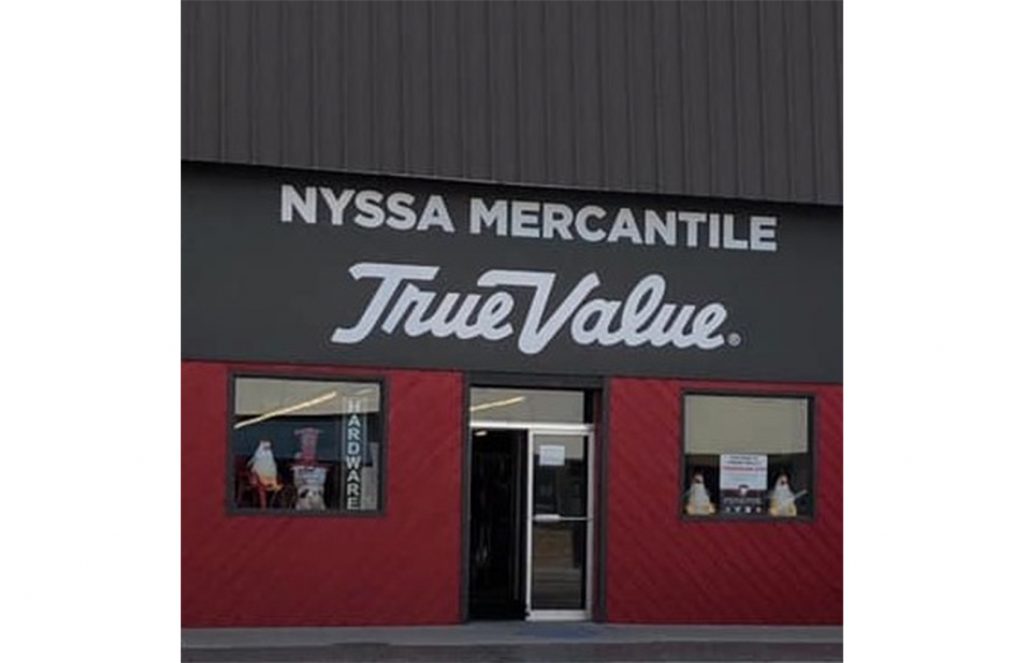 ENTERPRISE – The combined softball team of Enterprise, Wallowa and Joseph wrapped up a district season of 10-2 with two wins over the visiting Nyssa Bulldogs on Friday, May 13. The Outlaws took game one, 12-3 and followed the victory up with a 10-7 win in game two.
Game one saw Enterprise/Wallowa/Joseph put up five runs in the fourth inning and scatter 13 hits over six innings to take the win. Senior Liz Rowley was on the mound for the entire game, striking our eight Bulldogs and allowing only two walks.
Sophomore Cooper Nave had the big bat for the Outlaws with two home runs and a double in the game.
"She was unstoppable today," said Nyssa coach Tracy Cleaver of Nave. "Defensively, the day finally came that a ball was not dropped in the air, and our only two errors were on good throws just missed on the other end for outs. Without Nave's two jacks, a 4-run ball game."
Rowley was back on the mound for game two for the final five innings, striking out seven more Nyssa batters and walking two. The Outlaws put up five runs in the third inning and followed up with four more runs in the fourth.
Nave added to her daily total, going 3-for-four with one additional home run and a double.
Enterprise/Wallowa/Joseph ends the regular season sitting second in the 3A Special District 2 standings behind only Burns. The team now awaits a Friday game versus a yet to be named opponent.
Nyssa wraps up an interesting season (4-8 district, 5-18 overall) complete with injuries to their starting pitcher, a 1-13 start to the season and a finish of 4-5.
"Overall, looking at the record, maybe not a winning season," Cleaver said. "This team, however, inspiration and vast improvements on both offense and defense has provided us all in Nyssa with a tears choked back smile. I want to thank all the seniors on this team for a great year. It has been a rollercoaster of a season and these girls came out with fight, grit, and an attitude of 'why not us'?"
Nyssa 0 0 0 0 1 2 0 – 3 4 2
Enterprise/Wallowa/Joseph 1 1 2 5 0 3 X — 12 13 0
Nyssa 3 2 0 0 0 0 2 – 7 10 1
Enterprise/Wallowa/Joseph 1 0 5 4 0 0 X – 10 10 1
Before you go! If you would like to support continuing and expanded high school sports coverage in eastern Oregon for as little as $1 a month click below! Thank you!