This article brought to you by Martin and Martin Builders Inc.
Martin and Martin Builders are located in Adrian, Oregon. We live, play, and work in this community. Proud of our school, proud of our kids and, grand kids. We have always felt fortunate to live in this community. We call it home.
Martin and Martin Builders specializes in commercial, ag, and industrial buildings with wood frame and all steel. Licensed in both Oregon and Idaho and trusted for over 40 years with projects big and small.
Give them a call at 208-573-0614 or 208-573-5929.
John L. Braese
The 1A track meet has come to a close so now is the time to look towards next year.
The Adrian girls finished tied for second with Crane this state meet. The bad news for the rest of the state is Addy Martin and Presley Speelmon are back next year. Add in current freshman Kiara Rios and the Lopes walk into Hayward Field next May with 40-plus points to start a state meet.
Crane will be without Taylor Joyce as she goes on to run for the Mountaineers of EOU. Leslie Doman also makes the graduation walk for the Mustangs but Kortney Doman is back for her senior year. The incoming freshman class has some athletes but the question remains on how quickly they can be brought to speed.
Powder Valley had a strong showing this season, finishing fourth in the team totals. With the exception of graduating Dallee Bingham, this entire team returns including an impressive group of next year sophomores. The strength of this team is multiple quality runners making their relay teams scary good. Look for Sky Nesser and both Gressley girls to also be competing for individual top medals.
Cracking the top five in team scores this year, Joseph is similar to Powder Valley-loaded with young runners and fast. The Eagles lose Molly Curry to graduation but return the state's top pole vaulter in Annie Rose Miller. Joseph also is back next year as the defending champions in the 4-by-400 relay.
EOS needs to note here four of the top five teams in the state meet came from eastern Oregon.
We made the mistake in thinking Trout Lake was strong in pole vault only-our error. The Mustangs lose senior Gynel Duke but incoming sophomore Jade Mclean will have another year of coaching after finishing fifth this year. Moving to distance events, Myana Stock will be looking to make her senior year a championship year after placing second this year in the 1500 meters.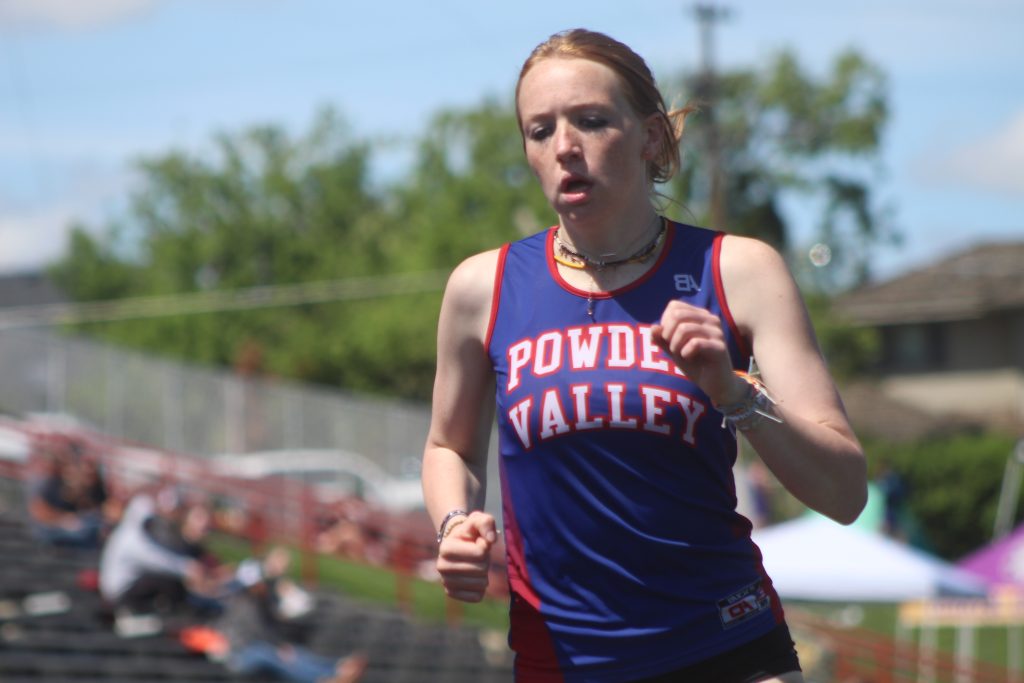 Sherman wrapped up the state meet just outside the top 10 in 11th. Sophie Hulke will be back for her senior year as a state champion in the discus. Sherman does lose Morgan Geary to graduation in both the javelin and triple jump.
The Bobcats of Union returned home with a 16th place showing. With distance runner Kaleah Hines graduating, the distance events will be left to incoming senior Jayda Blackburn. Union, known for a history of distance runners, needs to find a couple sprinters.
Imbler picked up 18th this year but has no seniors on the squad-they all return next year and with experience. Look for Paiten Braseth to again be in the top five in both the 800 and 1500 meters. The 4-by-100 team made top five this year but could not break into the sprint events individually.
Pine Eagle placed 20th this season with a single participant, current sophomore Ella Randall. Find a few more athletes like Randall and this is a top 10 squad.
After placing 21st in the team scoring, Pilot Rock has some work to do as the Rockets were senior heavy. Only incoming junior Alison Warner returns next year.
Cove picked up the 22nd spot with a team of two freshman. Give Taylor Weishaar and Angel Shields-Marr some help and the Leopards jump up.
Griswold's Ellery Flerchinger needs some help after placing 22nd in the team scoring by herself and her second-place finish in the discus. Find a few more athletes Griz.
Finishing 24th, Elgin enters next year without Kylee Bagett in the javelin and as a member of the relays. With the majority of the team current sophomores, Elgin should jump to top 15 next year.
Jordan Valley current sophomore Kenzie Tuttle managed a team 25th finish after placing third in the discus. She will be in the running next year for an individual championship but the incoming freshman class is heavy on boys.
Current sophomore Carmen Balaguer, a top five hurdler, will return for Mitchell-Spray after the team finished 25th in the team scoring. The Tigers do need to find one or two athletes in the field events with javelin thrower Jozee Jacobs graduation.
Nixyaawii finished 29th this year but were senior heavy. Only Ella Stewart is back next season so time to reboot.
The Rangers of Dufur placed 33rd at the state meet with only Hayler Peterson making the trip to Eugene. She will return as a senior in the discus event.
South Wasco County has the numbers and with the exception of graduating senior Sadie McCoy, all return to improve on the team's 33rd showing. This is a young team destined for improvement.
WILDCARD – Harper will be represented in the state meet next season and an incoming freshman sprinter will mix up other team's scores. Remember, saw it first on EOS.
FINAL THOUGHTS ON THIS YEAR – Yes, Damascus Christian won the team title but the eastern Oregon girls are dominant taking four of the top five and five of the top ten team scores. Across the board, the year's group of freshman (next year's sophomores) were impressive, already claiming individual state championships. A few of the teams mentioned above need to reload but overall, our area looks strong for more than a couple years to come.