NYSSA – Like many young athletes, Taylor Talbot dreamed of competing in the Olympics since an early age. She trained, she listened to coaches, and she started running competitively at an early age. At age two, Taylor's eyesight started to fade and by age eight, she was legally blind. The problem continued and at present, she has 5 percent vision in her left eye and less than 5 percent vision in her right eye.
The lack of sight failed to deter Talbot from her dream of competition. She immediately enrolled in Para Athletics with the ultimate goal of representing the United States. Taylor graduated from Nyssa High School, running track and field for the Bulldogs and earned a Paralympic All-American athlete designation from the Oregon School Activities Association.
After graduating from Nyssa, Talbot took her talents to Brigham Young University Idaho in Rexburg, Idaho. Continuing her training and not letting go of her goal, Talbot received an invitation to compete in the Paralympic trials with a chance to travel to Tokyo and possibly, an opportunity to compete for the United States.
"I ran in the 100 and 400 races," said Talbot. "I did run my best personal time in the 100 and although not disappointed in the 400, it was not my best."
Determining the qualifiers for the Paralympic team is not as easy as watching the recent track and field qualification from Eugene. In para-athletics, a standard time or distance is set for each event with the athlete's time compared to the standard. Using simple division, a percentage is assigned to each athlete comparing the finish to the standard.
"The standard was 12.33 and I ran a 13.2," explained Talbot. "I went through the range of emotions, feeling sad about the race because we calculated the percentages and it looked like I may not make it."
Athletes at the trial wait five days before the announcement of the Paralympic team. A Zoom call is the official announcement of who is in and who is out.
"I did not even bother to join the call as I did not want to not hear my name," Talbot said. "My mom was on the call as they read the list of names of who would be on the team."
The officials started to read of the listing of names. On the official's final breath, the name was a shock to the Talbot family-Taylor Talbot was an Paralympian.
"The whole family just started celebrating and going nuts," said Talbot. "We called everyone and started posting the announcement on social media. It was just incredible to reach the goal I had worked so hard for all my life."
Officials from the U.S. Para Track and Field Committee contacted Talbot on a team meeting call, explaining she would be receiving an email with information of a second call. They also told her to prepare for a Tokyo kit, an assemblage of uniforms, media information and travel arrangements.
The email never arrived.
Instead, Talbot received a phone from US Para Track and Field personnel. After having five days to make a decision, announcing the decision and promising Talbot a trip to the Paralympics, the committee was taking it all back.
"The committee said they had made a mathematical error and I was not on the team," she said. "In one moment, they crushed my dream."
The pain did not end there. The US Para Track and Field immediately unfollowed Talbot on all social media platforms.
"I was embarrassed and very hurt by the mistake they made," said Talbot.
The pain continued for the young athlete. During NBC's Sunday night coverage of track and field trials, a listing of Paralympians was placed on the screen announcing the team to the world. Talbot's name was still there.
"They have done little for the athlete who replaced me," Talbot said. "Her name was not included in the listing on the NBS news coverage."
Officials still refuse to divulge to Talbot exactly what error took place. Easternoregonsports.com made multiple inquiries, both by email and phone, to officials for an explanation.
On Tuesday, June 29, we received the following email in response from Kristin Gowdy, NGB Press Officer for the United States Olympic and Paralympic Committee.
"While we can't go into the specifics of scoring, we can assure you that in U.S. Paralympics' 20-year history, this has only happened twice. Support for Taylor has been made available directly from our Mental Health Taskforce and Mental Health Officers. A full list of our mental health services available to Team USA athletes can be viewed here: https://www.teamusa.org/team-usa-athlete-services/mental-health."
The initial error, multiplied by the committee's actions, is not the only issue according to Talbot.
"We have not been treated as Olympians," she said. "The venue for Paralympians was horrible. No spectators were allowed to cheer us on and it was nowhere like Hayward Field."
The newly remodeled Hayward Field in Eugene was the site for the Olympic track and field trials. Nationally televised over multiple nights, the stands were filled with spectators and fans of the athletes. The Paralympic trials were held on the campus of Breck School in Minneapolis, Minnesota. The Breck School is an Episcopal private school of 1,100 students ages kindergarten to high school.
"How come we were not allowed to compete at Hayward," said Talbot. "Paralympians would be more widely known and accepted if we were treated the same as Olympians. We needed to be at Hayward with the other Olympians."
The Olympics and Paralympics are governed by the same organization in the United States.
"This has on one of the most disappointing and hurtful things I have ever seen," said Talbot. "Paralympians are elite athletes and need to be treated with more respect than what has happened here."
With little explanations to her questions, minimal assistance from a committee representing athletes with and without disabilities and now, no trip to the Olympics, Talbot struggles to continue her dream.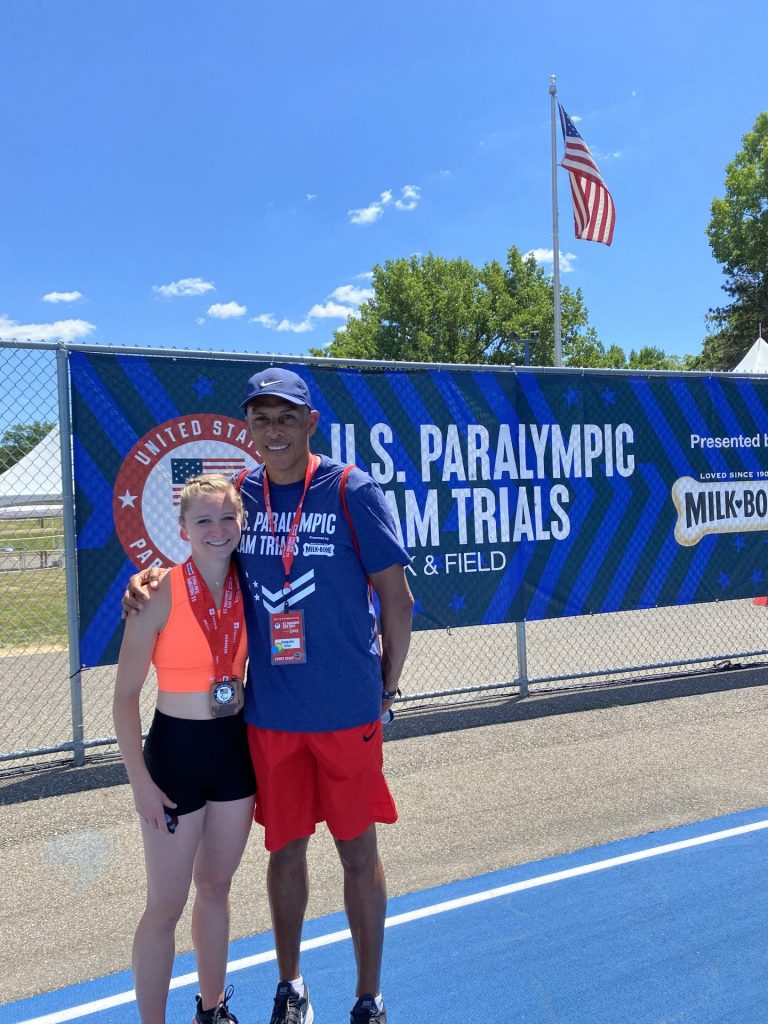 "Stepping on the track to train brings back painful feelings," she said. "I am determined to get through this and make it to worlds next year. I have the ability and drive to perform on the elite stage of world track and field. I know my hard work will pay off."
The difference is not in the legs running the track, but in the Nyssa girl now knowing the workings of a national association covering a mistake and refusing to take full accountability for repeatedly committing errors in this situation.
"My eyes have been opened," Talbot said. "The training is now about persevering through life's hardships and handling setbacks with grace. I am channeling everything I have gone through into my performance, but this time, I am doing it for myself. My goal is something like this does not happen to someone else. I want change to take place. Mistakes at this level should not take place and I never want any athlete to experience and feel what I have been through."
Talbot invites everyone to follow her continuing journey with the use of social media. Talbot's Facebook account is https://www.facebook.com/taylor.talbot.3726. She is also on Instagram at https://www.instagram.com/taybae610/.
While easternoregonsports.com routinely carries stories of great athletes in Oregon, we thank Taylor Talbot for opening up and discussing a truly painful experience with us. This is not a Nyssa story, a Malheur County story or even an Oregon story. We urge readers of the story to share this story with friends and relatives around the world. Those training their whole life towards a goal need to be treated better than unanswered questions and removal from social media so questions do not arise.
-John and Randy