Nyssa Mercantile in Nyssa, OR is your locally owned hardware store. We're proud to be a member of the True Value family, and we're here to serve our community. Whether you're a pro or taking on a DIY home improvement project for the first time, we're right here in your neighborhood with the expert advice, tools, equipment and the products you need to get the job done. Nyssa Mercantile in Nyssa, OR, we're here to help. Come in and see us today or give us a call at 541-372-6470.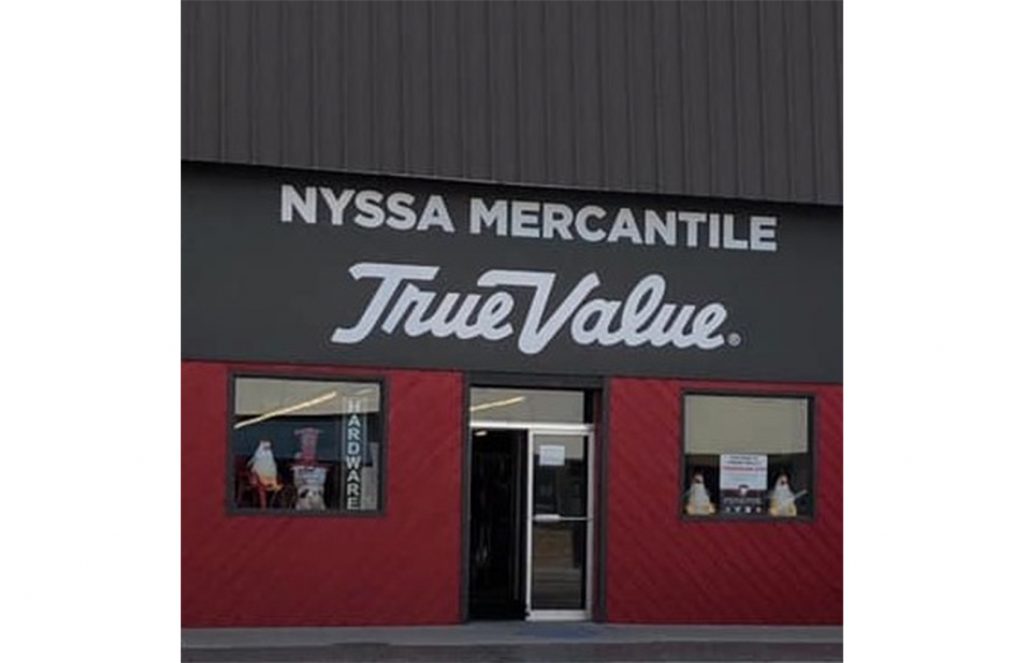 NYSSA – The Nyssa softball team wrapped up the regular home season and honored seniors on the team with two 3A Special District 3 wins over Riverside on Wednesday, May 11 on the Bulldog home field.
Putting 11 runs in the third inning in game one, Nyssa ended the game early with a 15-0 victory. Pitching before the home crowd for the final time in the regular season, senior Lea Garner took the win, striking out five Pirates. Offensively, every player in the lineup for the Bulldogs picked up a hit with senior Denise Patron-Vega making her senior night with two RBIs.
The game was postponed from last week due Riverside problems fielding a full team. The Pirates, with many players new in their positions versus Nyssa, only managed a single hit and pitcher Clarrisa Sanchez recorded one strikeout and three walks in the loss.
"Nyssa is firing on all cylinders, and had the seniors in their heart today," said Nyssa head coach Tracy Cleaver. "Everyone in the lineup hit, and they were super clean on defense. Lea Garner continues to be our leader and inspiration in the circle, striking out 1/2 the 10 batters she faced."
Garner also took the mound for the Bulldogs in game two and again only needed three innings as Nyssa took the game again, 15-0. Again, every Nyssa batter recorded a hit as the Bulldogs quickly put up 10 runs in the first inning in the shortened game.
Senior Kiersten Anderson picked up three RBIs and senior Brooklyn Johns added two RBIs as did senior Daisy Patron-Vega. Garner, due to a previous injury, Garner grabbed a bat for the first time since March 29 and promptly put two balls in play.
"If only there were a couple more weeks, or we could reverse time & get a few of the close ones back with the way these girls are playing right now — for the seniors," Cleaver said.
Riverside 0 0 0 X X X X – 0 1 0
Nyssa 2 2 11 X X X X – 15 14 0
Riverside 0 0 0 X X X X – 0 0 3
Nyssa 10 2 3 X X X X – 15 12 0
Before you go! If you would like to support continuing and expanded high school sports coverage in eastern Oregon for as little as $1 a month click below! Thank you!