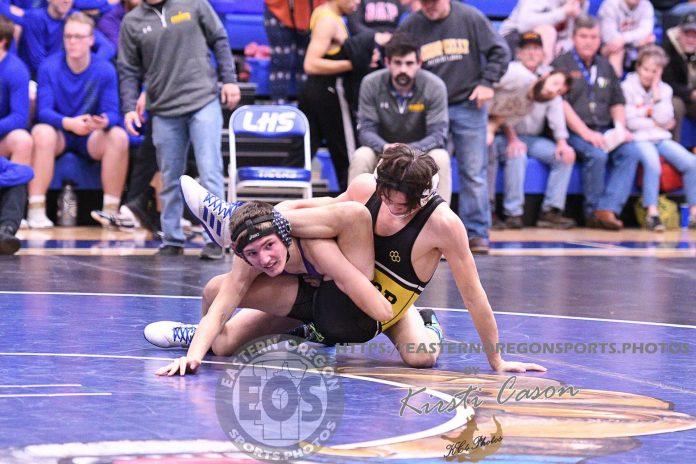 LA GRANDE – The Tiger wrestling squad insured parents and fans went home happy, taking the team title on the home mats at the Muilenburg on Saturday, December 14 in La Grande.
La Grande ran away from the 18-team tournament, putting together 387 points. The Burns Hilanders were the runner up, scoring 263.5 with Hermiston placing fourth after a point total of 229.
La Grande was led by championships from sophomore Braden Carson at 132 pounds, fellow sophomore Brody MacMillian at 160 pounds, senior Parker Robinson at 170 poundssenior Christopher Woodworth at 195 pounds and senior Spencer Gerst wrestling in the 220-pound class.
Burns also found two first place titles including sophomore Oliver Barnes at 106 pounds and junior Cody King at 152 pounds.
This year, Muilenberg teams included squads representing Oregon, Idaho and Washington.
Photo Gallery – Muilenburg Wrestling Tournament (La Grande)Day 1 – Wrestling – Kirsti Cason
106
Guaranteed Places
1st Place – Oliver Barnes of Burns
2nd Place – Cody Beveridge of Reynolds
3rd Place – Rogan Willins of La Grande
5th Place – Delia Gulzow of La Grande
6th Place – Dawson Tremper of Pendleton HS
1st Place Match
Oliver Barnes (Burns) 4-0, So. over Cody Beveridge (Reynolds) 3-1, Sr. (Fall 1:22)
3rd Place Match
5th Place Match
Cons. Champ Match
Carter Lardy (Burns) 3-1, Fr. over Bobby Nevarez (Weiser) 2-2, Fr. (Fall 0:32)
113
Guaranteed Places
1st Place – Christopher Martino of Bishop Kelly
3rd Place – Anthony Comer of Scappoose
4th Place – Hunter Smith of Banks
5th Place – Brysen Peneloza of La Grande
6th Place – Kenny Vang of Reynolds
1st Place Match
3rd Place Match
Anthony Comer (Scappoose) 10-3, Fr. over Hunter Smith (Banks) 3-2, So. (Fall 0:33)
5th Place Match
Brysen Peneloza (La Grande) 3-2, Fr. over Kenny Vang (Reynolds) 7-3, Jr. (Fall 2:16)
Consolation 1st
Zayne Helfer (Hermiston) 9-2, So. over Austinn Frink (Eatonville) 5-3, So. (MD 10-0)
120
Guaranteed Places
1st Place – AJ DeGrande of Scappoose
2nd Place – Conor Marsh of Weiser
4th Place – Joshua Collins of La Grande
5th Place – Isaac Wood of Mcloughlin
6th Place – Gabe Browning of Pendleton HS
1st Place Match
AJ DeGrande (Scappoose) 11-2, Sr. over Conor Marsh (Weiser) 3-1, Sr. (MD 17-4)
3rd Place Match
5th Place Match
Consolation 1st
Eugeniy Cyrus (Eatonville) 4-1, . over Mason Strong (Weiser) 2-2, Sr. (Dec 9-8)
126
Guaranteed Places
1st Place – Justin Williamson of Weiser
2nd Place – Dominick Caratello of La Grande
3rd Place – Kenny Terry of Elgin
4th Place – Corbett Graham of Burns
5th Place – Layne Ensey of Mcloughlin
6th Place – Christopher Van Derveer of Eatonville
1st Place Match
Justin Williamson (Weiser) 5-0, Jr. over Dominick Caratello (La Grande) 6-1, Fr. (Fall 2:29)
3rd Place Match
5th Place Match
Layne Ensey (Mcloughlin) 4-2, Jr. over Christopher Van Derveer (Eatonville) 3-3, Jr. (Fall 1:44)
Consolation 1st
Dylan Smith (Banks) 4-1, So. over Trevor Kirkpatrick (Hermiston) 3-2, So. (Fall 0:52)
132
Guaranteed Places
1st Place – Braden Carson of La Grande
2nd Place – Kooper vonBrethorst of Weiser
3rd Place – Ronald Lopez of Bishop Kelly
4th Place – Ty Whitney of Eatonville
5th Place – Kevin Peasley of Burns
1st Place Match
Braden Carson (La Grande) 5-0, So. over Kooper vonBrethorst (Weiser) 4-1, Jr. (Dec 7-4)
3rd Place Match
Ronald Lopez (Bishop Kelly) 11-3, Sr. over Ty Whitney (Eatonville) 7-2, So. (Dec 9-4)
5th Place Match
Consolation 1st
138
Guaranteed Places
1st Place – Trace Evans of Enterprise HS
2nd Place – Alex Kehr of La Grande
3rd Place – Colton Frates of Scappoose
4th Place – Braden Edwards of Weiser
5th Place – Jack Lieuallen of Pendleton HS
6th Place – Eric Torres of Weiser
1st Place Match
3rd Place Match
Colton Frates (Scappoose) 12-2, Sr. over Braden Edwards (Weiser) 4-2, Sr. (MD 12-0)
5th Place Match
Jack Lieuallen (Pendleton HS) 7-3, Fr. over Eric Torres (Weiser) 3-3, Jr. (Fall 2:38)
Consolation 1st
Hunter Kemper (Burns) 5-1, Fr. over Nicholas Barden (Barlow) 6-4, Sr. (Fall 2:48)
145
Guaranteed Places
1st Place – Jesse Jones of Mcloughlin
2nd Place – Braxton Bisenius of La Grande
3rd Place – Cody Hovda of Estacada
5th Place – Clinton Caeton of Eatonville
6th Place – Trayton Bale of Pendleton HS
1st Place Match
3rd Place Match
5th Place Match
Clinton Caeton (Eatonville) 7-3, . over Trayton Bale (Pendleton HS) 2-3, Jr. (Fall 3:54)
Consolation 1st
Michael Draper (Bishop Kelly) 6-7, Jr. over Cesar Barraza (Hermiston) 7-4, So. (Fall 1:45)
152
Guaranteed Places
1st Place – Cody King of Burns
2nd Place – Matthew Morris of Weiser
3rd Place – Titus Trayhorn of Barlow
4th Place – Maddox Stevens of Weiser
5th Place – Robert Sudderth of Weiser
6th Place – Danner Hamilton of Pendleton HS
1st Place Match
Cody King (Burns) 5-0, Jr. over Matthew Morris (Weiser) 4-1, Sr. (Dec 10-4)
3rd Place Match
Titus Trayhorn (Barlow) 9-1, Sr. over Maddox Stevens (Weiser) 4-2, Fr. (Fall 3:27)
5th Place Match
Robert Sudderth (Weiser) 4-2, Sr. over Danner Hamilton (Pendleton HS) 3-5, Sr. (Fall 1:39)
Consolation 1st
Dawson Williams (Burns) 5-1, Sr. over Mathew James (Eatonville) 8-2, Jr. (Fall 2:33)
160
Guaranteed Places
1st Place – Brody MacMillian of La Grande
2nd Place – Johnathan Dudley of Banks
3rd Place – Trey Dieringer of Scappoose
4th Place – Anthony Moulton of Burns
1st Place Match
Brody MacMillian (La Grande) 5-0, So. over Johnathan Dudley (Banks) 4-1, Sr. (Fall 4:58)
3rd Place Match
Trey Dieringer (Scappoose) 11-3, Fr. over Anthony Moulton (Burns) 4-2, Sr. (Inj. 0:00)
5th Place Match
Consolation 1st
Tim Henke (Bishop Kelly) 13-1, Sr. over Boone Ksiazek (Weiser) 4-2, Jr. (Dec 6-0)
170
Guaranteed Places
1st Place – Parker Robinson of La Grande
2nd Place – Wyatt Epling of Burns
3rd Place – William Johnson of Burns
4th Place – Trevor Wagner of Hermiston
5th Place – Sam Garrison of Estacada
6th Place – Malachi Hoobery of Weiser
1st Place Match
3rd Place Match
5th Place Match
Sam Garrison (Estacada) 4-2, Sr. over Malachi Hoobery (Weiser) 3-3, So. (Dec 7-4)
Consolation 1st
182
Guaranteed Places
1st Place – Isaac Urbina of Pendleton HS
2nd Place – Trace Prosser of Burns
3rd Place – Harlen Gunderson of Burns
4th Place – Daniel Faaeteete of Hermiston
5th Place – Casey Cornford of La Grande
6th Place – Deacon Smith of Scappoose
1st Place Match
3rd Place Match
5th Place Match
Casey Cornford (La Grande) 3-2, Jr. over Deacon Smith (Scappoose) 6-5, Jr. (Fall 1:36)
Cons. Champ Match
Riyle Kauffman (Scappoose) 7-4, Jr. over Clayton Hammond (Elgin) 4-3, Sr. (Fall 0:44)
195
Guaranteed Places
1st Place – Christopher Woodworth of La Grande
2nd Place – Robert Plympton of Reynolds
3rd Place – Michael Winn of Burns
4th Place – Blake Betz of Hermiston
5th Place – Rylee Willet of Weiser
6th Place – Hunter Clark of Reynolds
1st Place Match
Christopher Woodworth (La Grande) 4-0, Sr. over Robert Plympton (Reynolds) 7-1, So. (MD 13-3)
3rd Place Match
5th Place Match
Rylee Willet (Weiser) 3-2, So. over Hunter Clark (Reynolds) 2-3, Jr. (Fall 0:29)
Cons. Champ Match
Mason Vasquez (Eatonville) 7-1, Sr. over Andrew Collins (Barlow) 2-2, So. (Fall 4:09)
220
Guaranteed Places
1st Place – Spencer Gerst of La Grande
2nd Place – Jonathan Lee of Hermiston
3rd Place – Sam Cadenas of Hermiston
4th Place – Nico Winsor of Estacada
5th Place – Kent Jones of Scappoose
6th Place – Bryson Cook of Banks
1st Place Match
3rd Place Match
Sam Cadenas (Hermiston) 4-1, So. over Nico Winsor (Estacada) 4-2, Sr. (Dec 10-6)
5th Place Match
Kent Jones (Scappoose) 4-3, Jr. over Bryson Cook (Banks) 2-3, Sr. (Fall 0:45)
Consolation 1st
Tanner Wells (Mcloughlin) 3-1, So. over Eric Sheldon (Reynolds) 3-4, Jr. (Inj. 0:00)
285
Guaranteed Places
1st Place – Cutter Sandstrom of Scappoose
2nd Place – Dustyn Coughlin of Hermiston
3rd Place – Devin Gotchall of Estacada
4th Place – Joel Rogers of La Grande
5th Place – Ramsey Hering of Banks
6th Place – Ruben Daniels of Scappoose
1st Place Match
Cutter Sandstrom (Scappoose) 9-2, Jr. over Dustyn Coughlin (Hermiston) 7-3, Sr. (Fall 2:49)
3rd Place Match
Devin Gotchall (Estacada) 5-1, So. over Joel Rogers (La Grande) 3-2, Sr. (Fall 2:01)
5th Place Match
Ramsey Hering (Banks) 3-2, Jr. over Ruben Daniels (Scappoose) 3-3, Jr. (Fall 1:58)
Consolation 1st
Matthew Jefferis (Barlow) 4-1, Jr. over Yosta Asimi (Barlow) 2-2, So. (Fall 0:34)