IMBLER – Once the Oregon School Activities Association opens up the wrestling season this season, the Imbler Panthers will take to the mat with a coach celebrating 50 years leading young wrestlers.
Doug Hislop is a known name in the field of education and wrestling throughout eastern Oregon. Coming up on 50 years of coaching, Hislop was recently recognized as Coach of the Year by the Oregon Coaches Association.
"We love to honor such a deserving individual like Doug," said Rob Younger, Executive Director of the OCA. "He has been a positive influence on so many during that long and distinguished career."
"I still can't believe I am receiving the honor," said Hislop. "There are so many coaches throughout Oregon much more worthy of this."
Hislop's time on the wrestling mat goes even farther back than his 50 years of coaching. Growing up in Idaho, he moved to Fruitland, Idaho during junior high to wrestle.
"We were actually closer to Parma," Hilsop recalled. "I was involved in 4-H and all that stuff, but I guess Fruitland needed wrestlers more than Parma. I was a big kid and ended up wrestling seniors during practice my freshman year. They kicked my butt."
After graduation, Hislop attended Treasure Valley Community College in Ontario, but only part time as his father had passed and Hislop was needed at home. Even attending part time and working, Hislop was a member of the Chukar wrestling team. He went on to Eastern Oregon University for his degree, a school and wrestling squad he continues to support to this day.
Hislop then started his education and coaching career in La Grande. His coaching career with the Tigers lasted 39 years.
"I was an assistant when we won the state title in 1978 and still coaching when we took it again in 1996," Hislop said.
Retiring after a lengthy stint as superintendent did not translate to retirement from coaching. A former colleague, Imbler Superintendent Mike Mills, hit Hislop up immediately to coach the Panthers.
"This a very deserving honor for Doug," said Mills when notified of Hilsop's award. "He does a tremendous job as Head Wrestling Coach here at Imbler by providing a caring environment that teaches our kids lessons both on and off the mat. Doug is not only a coach, but he is a mentor and role model to not only our wrestlers, but to all wrestlers throughout the state. He's also a great ambassador for the sport of wrestling. My biggest compliment I can say about Doug is that he sincerely cares about every kid he comes into contact with."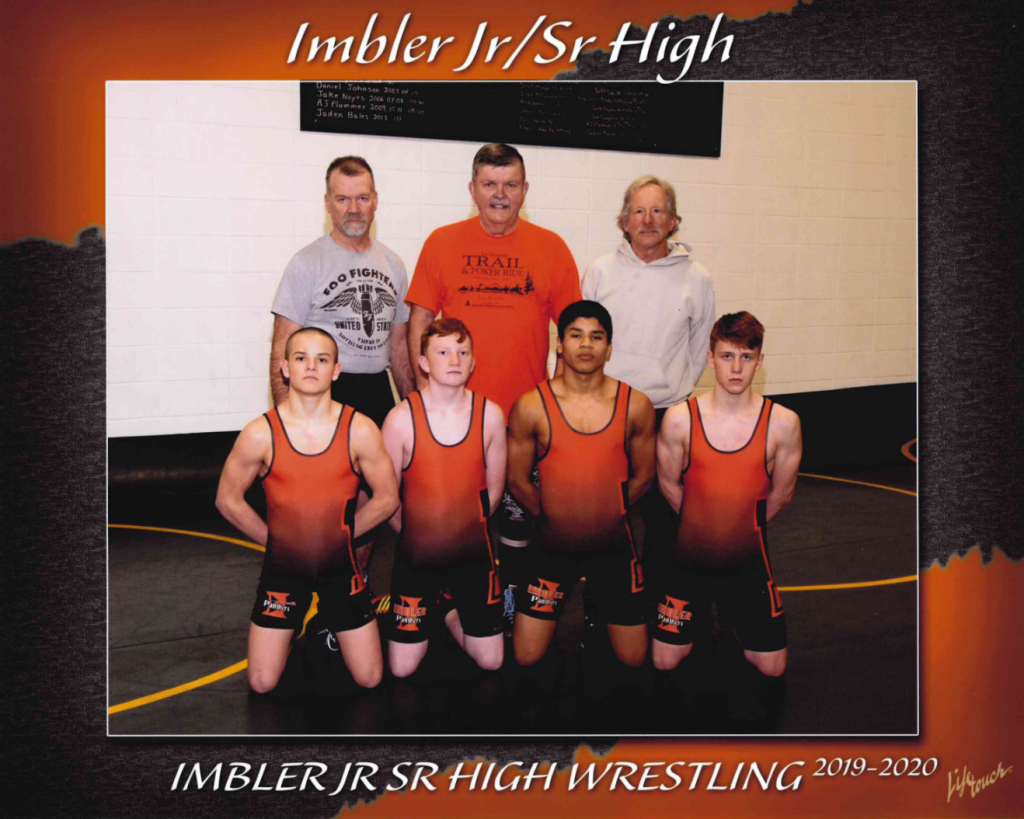 "I only sign a one-year contract so if they ever want to get rid of me, they can," said Hilsop. "I have a great assistant so we will be in great hands in the years to come. I just keep saying one more year and that has turned into quite a few."
At age 73, Hislop does not coach from the sidelines.
"I still get on the mat and show the kids the moves," he said. "Truth be known, I have stole more information from all these years than I know."
In addition to his coaching duties, Hislop is also an accredited wrestling official and continues to sit on the board for wrestling at Eastern Oregon University.
"I always teach the kids their first responsibility is to their family, then their school studies and third is wrestling," Hislop explained. "I want the kids to have fun with wrestling."
Related: Imbler Sports Action Photos
In his 13 years with the Panthers, Hislop has guided three grapplers to a state championship.
Hislop and his award will now be forwarded to regional competition where he will compete against six northwest state winners. Seeing a win there, he would compete against seven regional winners for the national title.
Hislop was nominated from a group of athletic directors, Coaches Association board members, wrestling staff members and OSAA staff. The criteria for nomination fully described Hilsop's coaching career – "Nominees must exemplify the highest standards of sportsmanship, ethical conduct and moral character and carry the endorsement of the respective state high school association. We want them to be not only winners in their respective sports but as individuals in their schools and communities as well. Longevity in coaching is also an important criteria."
As Imbler is a 1A school with a limited budget for wrestling, Hislop was quick to point out the award does not belong to him alone. In addition to parents, assistant coaches and the community of Imbler, one person stands out for Hislop. 
"My wife Patty has been with me the whole time," he pointed out. "She goes with me to every meet, takes care of the boys and makes sure things get done. This award goes to her also and she is just as important to the team as I ever have been."