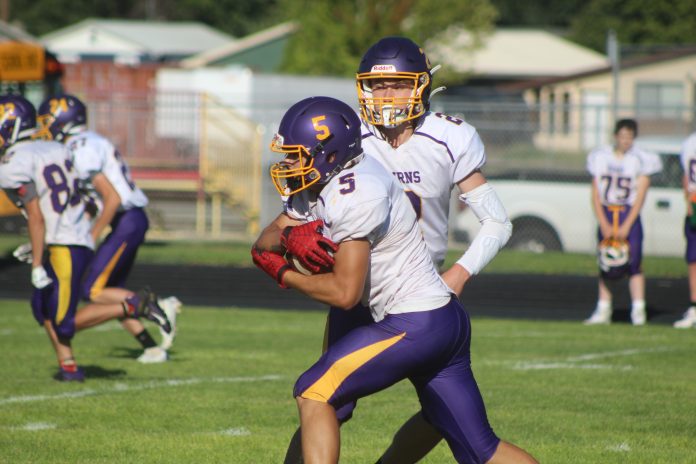 This article sponsored by Jamieson Produce and Y-1 Farms.
Jamieson Produce is an onion packing shed located in Vale, Oregon that packs and ships onions across
the United States 12 months of the year. It has been in operation for nearly 40 years and currently
employees about 50 people. Over the years our business has grown and to date we pack and ship over 100 million pounds of onions each year. We appreciate the quality onions our growers provide and the hard work our employees do every day. Jamieson Produce is owned by Doug and Terrie Maag and managed by Jeff Stubbs.
Y-1 Farms is located in Jamieson, Oregon and is owned by Doug and Terrie Maag and Corey and Mandi
Maag. Various row crops such as onions, sugar beets, silage corn, alfalfa, and wheat are grown on
nearly 2000 acres. The feed crops are used to provide feed for the feedlot they operate. Up to 12,000
head of cattle can be fed at Y-1 Farms. Y-1 Farms was established in 1985 but the Maag Family was
farming before that. Doug farmed with his father, Warner Maag, for several years prior before
purchasing his own farm. Y-1 Farms employs about 20 full-time employees to assist in operating the
farm. We are extremely grateful for our employees and the hard work they provide.
John L. Braese
WILSONVILLE – With the grades in the books, the Oregon School Activities Association released the cumulative grade point average (GPA) for the state's football teams and eastern Oregon is scattered throughout the divisions.
In 4A, the Buckaroos and Tigers are side by side with Pendleton/Nixyaawii sitting eighth among the state's teams followed by La Grande in ninth. The Buckaroos finished with a 3.17 GPA followed closely by La Grande's 3.14 GPA.
3A football finds Burns fourth among the state's teams with a 3.45 GPA. Vale comes on the list at 13th in the state 3A with a GPA of 3.15.
The 1A 8-man league sees eastern Oregon teams making up five of the state's seven teams above at 3.0 GPA led by Union's 3.51 average, second in the state only to Crosspoint Christian. Crane's 3.27 GPA is fourth in the state ranks followed by Sherman/Condon's 3.10. Powder Valley's is sixth in the standings with a 3.08 and Elgin is the final team in the state 2A ranks above a 3.0 with a 3.04.
Wallowa and Prairie City/Burnt River represent eastern Oregon in the 1A 6-man listing with the Cougars second with a 3.51 GPA and the Panthers in fourth after compiling a 3.14 GPA.
4A Football
3A Football
1A 8-Man Football
1A 6-Man Football
1. C.S. Lewis Academy 3.52. 2. Wallowa 3.51. 3. North Lake 3.37. 4. Prairie City / Burnt River 3.14.1.