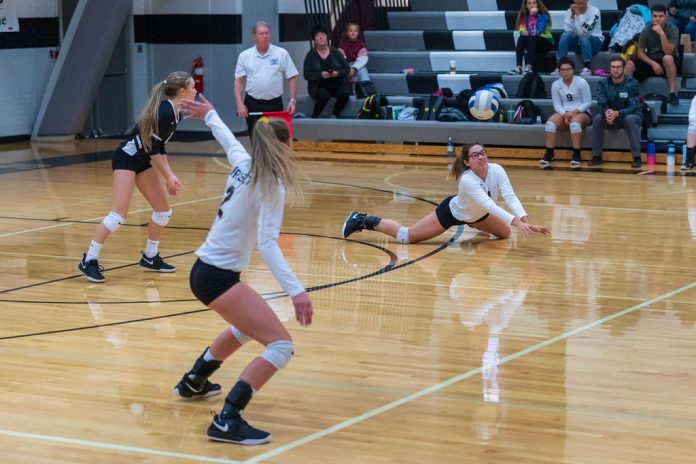 VALE – Coming into the 3A-6 Eastern Oregon League volleyball tournament on Saturday, October 26, the Irrigon Knights had hopes of a return to the state tournament. Their opponents, the Burns Hilanders, made quick work of the match and now the Knights are awaiting a long shot chance at an at-large berth.
The Hilanders advanced to take on Vale later in the day after a 3-0 victory over Irrigon.
Burns started the first set leading 2-0 before the Knights put a point on the board. Battling back and forth, the two teams tied nine times in the course of the set before the Hilanders went out in front for good at 21-20. The two final points involved apparent scores by the Knights only to have the Hilanders perform miracle saves, keeping the ball in play. In the end, Burns took the 25-21 win.
Irrigon led early in the second game before Burns tied up the score at eight points. The set then went the way of Burns, 25-20 with the final point being a serve by Fawntana Britt being returned into the net.
The Hilanders led the entire way in game three, scoring the initial point and cruising to a 25-15 win and the match victory. Kaiden Raif served an ace on the final point to cap off the Burns win.
"We showed what we could achieve this season," said Irrigon coach Vanessa Gutierrez. "This team showed a lot of growth over the season."
Gutierrez will only see the departure of two seniors from this year's squad and said the future is bright for the Knights.
"We have some great athletes coming up with a lot of potential," Gutierrez said. "Every year we are growing and getting better."
In the loss, Alyssa Luna had three aces, four kills and 10 digs. Haley White and Tatum Allen each had eight kills. Makenna Collins finished with 24 digs and Emma Muller had 24 assists.
Irrigon, barring an at-large berth, ends the season with a 15-13 overall record and a 5-5 league record to go with a third place showing in the Eastern Oregon League.
Related: Photo Gallery – Burns Irrigon District Volleyball