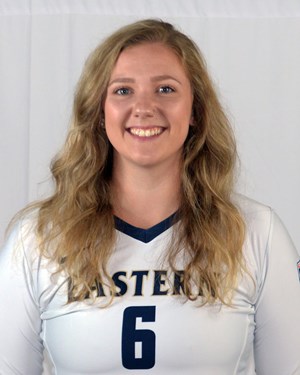 HERMISTON – Megan Bunn has been busy this summer. Bunn accepted a teaching position with the Hermiston District and is preparing for a new stint as a fifth-grade teacher in the fall. And she is teaching summer school. And she is holding clinics for future Bulldog volleyball players. Oh, and Bunn accepted the job offer to take over as head coach of Hermiston volleyball.
"It has been a hectic summer," said Bunn as she found time to lounge at the pool for an hour or two and provide an interview.
Bunn has lived the volleyball life since taking up the sport in Banks, Oregon in second grade. Playing her way through high school, Bunn was a four-time all-conference honoree in the Cowapa League and was named as the 4A Player of the Year her senior year. After graduation, she accepted a scholarship to Eastern Oregon University where she was a two-time NAIA All-American. She is second on the list for the school's all-time kills and the first player in the history of the Mountaineers to put up 1,000 kills to go with 1,000 digs.
After receiving her bachelor's degree, Bunn stayed on in La Grande as a graduate assistant and assistant coach, receiving her masters in elementary education.
Jumping in with both feet, Bunn accepted a teaching position, moved to Hermiston and took on summer school duties. She also started coaching at youth camps, showing first thru sixth grade students the game of volleyball.
"Obviously, I plan on being here in Hermiston quite a while," said Bunn.
Bunn takes over a program after the resignation of Becky Wadekamper. Hired late in the year, Bunn is anxious to get the Bulldog team on the floor.
"I remember when Hermiston played in the Oregon League and they were a powerhouse in the state," Bunn said. "Playing in the Washington League is tough, good teams and well coached."
Bunn plans on working on basics and building on what the team has already accomplished.
"I just can't wait until we can get everyone back on board and building the team chemistry," she said.
While she waits for the season to officially start, Bunn said watches Netflix, exercises and tries to get back home to Banks to spend time with her favorite person, a one-year-old nephew.
"I will be happy when the girls are on the court and we are preparing for that first match," said Bunn.